As we step into 2019 in earnest, it is time for some reflection: What were some interesting developments in the field of technology, especially ICTs, for development in 2018? What are the most unique and growing applications of technology that will define the years to come? And finally, what are some key learnings of ICTs for Development that we should keep in mind as we go along?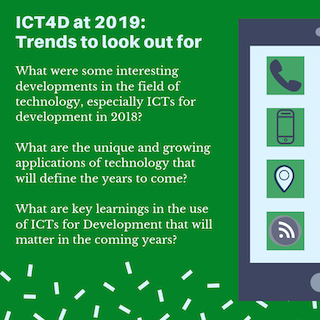 Noteworthy developments from the recent past
Vernacular tech is growing, but more is needed to make the content localised, relevant and optimised for minimum usage of data or space without compromising on quality. Ankur Capital writes on this key trend: https://www.ankurcapital.com/post/vernacular-tech-changing-business-landscape-in-india-for-next-billion-users
Even as data usage grows, offline sharing of apps, content and files is a trend that is popular among semi-urban and rural areas of India that are still in the shadows of reliable mobile data connectivity. Arundhati Ramanathan writes for The Ken on how Google is trying to tap into P2P sharing of apps, currently dominated by SHAREit (the piece requires sign-up to read): https://the-ken.com/story/google-wants-its-share-of-shareits-sideloading-pie/
An interesting new development is that of vernacular 'conversational agents' to address the needs of people with low literacy and technology experience for credible information and counsel on various topics. Read about Farm Chat, a conversational agent in Hindi for farmers: https://homes.cs.washington.edu/~mohitj/pdfs/j2-imwut-2018.pdf
Upcoming applications of technology that hold promise
Digital technologies, including ICTs, have been successful in measuring, delivering and monitoring health services in India, but here are some new areas that are opening up.
Satellite imaging, IoT and big data for improving farm yields, strengthening climate change resilience, agriculture financing, insurance, etc. Check out Oxen Farms, an IIT Kanpur incubated start-up that incorporates these technologies in farms across central and northern states of India.
There is growing deployment of technology and media for ensuring rights, with their role in contributing to transparency and accountability becoming centre stage. Read our colleague Orlanda Ruthven's article on The Wire on our platform Saajha Manch, which provides a database of accounts by workers in NCR of the kinds of violation and enforcement failure encountered daily.
Children from low-income families often end up trailing behind in schools because their parents, often with limited education themselves, are unable to help the children with early education. Start-ups such as Saarthi Education and Dost Education are leveraging simple ICTs to equip parents to better engage in their children's early education and development.
Pointers to remember as we look to use technology for good in the coming years