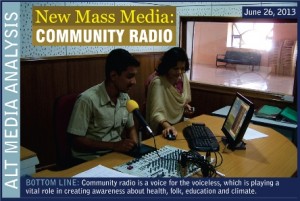 Today's South Asian alternative media are thumping the issues of disaster management, mis-governance and human rights in the region.
EK duniya anEK Awaaz gives prominence to, "Disaster management guidelines and protocol must incorporate Community Radio." Gram Vaani reports about its Uttarakhand Rahat Samachar lines for the flood victims; India Unheard reports: MGNREGA: No Employment, No Money; Kafila writes: "Local Leader, National Ambitions: The Curious Case of Mr Narendra Modi"; One World South Asia reports: In Bangladesh, torture is endemic; India Togetherhighlights, "New report on Posco, but who's listening?"; TwoCircles.net (TCN) reports, "Kashmiris are fed up with violence".
On the other hand, today's mainstream media covered: IAF rescue chopper crashed in Uttarakhand; Maoists killed two in Bihar; Supreme Court gave reprieve for Madhya Pradesh MLA whose seat was declared vacant; In Rajya Sabha polls, congress will support DMK candidate Kanimojhi.
Let's see the trenchant analysis of various alternative media core in South Asia in the last two days:
Community Radio enhances the flood affected population's access to vital information through the establishment of mobile community radios. Gram Vaani reports about its Uttarakhand Rahat Samachar lines. Gram Vaani is a social development organization based in India, building open-source technologies for community media in rural areas. Their flagship product is a radio automation system called GRINS (Gramin Radio Inter-Networking System), designed for rural areas of developing countries.
This media has been operating Relief News lines at different community radio stations of the flood affected regions of Uttrakhand. To know or inform about the situation in affected regions and receive news about the citizens stranded in Uttrakhand, please call in the following toll free numbers of community radio stations.
Kumaon Vaani 011-66030073, in the Chamba region
Henvalvani 011-66030074, in the Mukteshwar region
Mandakini Ki Aawaz 011-66030075, in the Pauri region
As per Gram Vaani, "These are not "helpline" numbers, but people can use them to report news as well as listen to the latest news reported by others".
The role of community radio is tremendous in the natural calamities. The local-dialect community radio stations have been warning residents about cyclones and helping farmers cope with erratic weather patterns. People in the countryside, most of whom are illiterate, can easily understand weather bulletins and other instructions. Community radios have been broadcasting live programmes on health issues, like the prevention of cholera and malaria, and on other important issues, like child rights in emergencies, and continued to do so during the time of the floods. They air radio spots that inform and sensitize the communities and try to reach all flood-affected families.
India Unheard reports: MGNREGA: No Employment, No Money. It says, "In the year 2011, Birish Parya was given a grant on behalf of the rest of the village Kusmahi (District Gadva, Jharkhand) to construct a well by the MGNREGA scheme. This is a common practice used where one individual receives money for a project which they distribute to others who work on it."
It further says, "Upon the completion of the 1st round of the project, Birish received an amount of Rs16,000 which he gave out among fellow workers. But the rains played spoilsport and the well could not be completed. Determined to finish what had been started Birish decided to fund the construction himself in the hope that he would receive the money from the scheme at a later date. A year later, there is no sign of this money."
The Mahatma Gandhi National Rural Employment Guarantee Act (MGNREGA) addresses itself chiefly to working people and their fundamental right to live with dignity. The success of the MGNREGA, however, will depend on people's realisation of the Act as a right. Effective levels of awareness and sustained public pressure are crucial to ensure that the implementation problems are addressed and the objectives met.
EK duniya anEK Awaaz reports, "Disaster management guidelines and protocol must incorporate Community Radio." In this article Dr R Sreedher says, "The network of Community Radio stations could be an important component in disaster preparedness argues. While newspapers and other media are reporting varying figures to measure the extent of loss of life and property in the Uttaranchal floods disaster recently, an official from the meteorological department of Uttarakhand is believed to have made a statement that a network of community radio stations could have curbed the extent of damage."
CGNet Swara reports, "Adivasis in Surguja Chhattisgarh not got land under Forest Rights Act." This media writes, "Thousands of adivasis in Mainpat (Surguja District) Chhattisgarh who have applied for individual forest rights act years back but they have not got any land deeds. Some say they did not get any receipt against their application either."
The Forest Rights Act or the Tribal Rights Act is a key piece of forest legislation passed in India on December 18, 2006. The law concerns the rights of forest-dwelling communities to land and other resources, denied to them over decades as a result of the continuance of colonial forest laws in India. The Act claims that it will redress the "historical injustice" committed against forest dwellers, while including provisions for making conservation more effective and more transparent.
Chai with Lakshmi writes, "A Visit to the Post Office". In this article the author Prarthana Unkalkar Kaul says, "Writing letters has always been a task that is very dear to me. When I was in 1st standard, I would write to my grandfather – my Aba – and I continued writing to him until 6 years ago when I lost him. I recently discovered a bag full of old letters from Aba, cousins, family and friends, and with them I found the fond memory of each of them." It further says, "Me being me, I shared the idea at the event that day and was super thrilled when 2 candidates responded saying that they've been waiting for such an initiative, and that they hardly get to buy gifts when they visit stores. Today, I've got a name for this initiative, the Inclusive gifts store: GiftAbled. I thank Enable India for doing such wonderful work in the Disability Sector and for sparking this unique and inclusive opportunity that is Giftabled."
Kafila writes on '15,000 people from Gujarat were rescued in a day in Uttarakhand': "Local Leader, National Ambitions: The Curious Case of Mr Narendra Modi". It says, "Undoubtedly, Mr Modi's first trip outside Gujarat, after his anointment by the Sangh, has not only added egg on his face but has shown him in 'true colours'. Forget the well cultivated halo around his 'national' image by his followers he is basically a regional Gujarati leader and cannot even think beyond his limited horizons."
Modi's recent action in Uttarakhand is part of vote bank politics. It is a tragedy that we have allowed demographic faultlines to be used as a political wedge issue. It is time to attempt a mission that will over time permanently bury these demographic faultlines. We lament corruption, yet we fail to recognise that when immoral politics are accorded moral sanction using identity as a wedge, such corruption is an inevitable outcome.
The Hoot writes, "Our Free Speech Hub revamped". It says, "In 2010, when we launched the Free Speech Hub, the issues came flying at us thick and fast. Barely had we begun to put together a body of information and expertise on one issue when another would claim attention. In the recent past, we have had to grapple with a gamut of free speech issues – from censorship and the killings, attacks and threats to journalists, artists, civil liberties' activists, or filmmakers."
One World South Asia reports, "In Bangladesh, torture is endemic: AHRC". This media says, "According to Asian Human Rights Commission torture is endemic in Bangladesh. "Every police station or office occupied by the police (or any of the law enforcement agencies) is a place where torture is used systematically, every day. Any place where a member of the law enforcement agencies or security forces stays, or passing through, or temporarily stationed, or the street – in either rural or urban setups – is a potential scene of torture," AHRC said in a statement."
Bangladesh is not unfamiliar with political violence; state backed terrorist activities and cruelty of its law enforcement wings. Corruption and brutality is common language of Bangladesh Police. Last month, the combined forces of the secular regime including its "civilian" gangs, led by police and military forces, attacked the defenseless protestors who were quietly praying, doing zikr and resting, many even sleeping after the daylong rallies.
What followed is horrific beyond words. Blood flowed in the streets as the Muslims were indiscriminately slaughtered. Truckloads of the dead are being taken away by the regime's forces. As the crowd was resting next to Baitul Mukarram, the central mosque in Dhaka, the secular gangs tried to set fire to the entire mosque complex. Scores of book stores selling Islamic books, Qurans and Hadith were burned to ashes.
Other news covered by this media are: Despite I&B ministry nod, Dehradun CRS yet to go on air; World marks International Day against Drug Abuse; Civil Society to rope in Panchayats for Uttarakhand relief; Every country affected by sexual violence: Angeline Jolie.
South Asia Citizen Web reports: "India's counterterrorism laws being widely misused – says Human Rights Watch release". This media writes, "Authorities in India should conduct an independent review of apparent politically motivated terrorism charges filed against performers in a Dalit cultural group, Human Rights Watch said."
One of the primary difficulties of implementing effective counter-terrorist measures is the waning of civil liberties and individual privacy that such measures often entail, both for citizens of, and for those detained by states attempting to combat terror. At times, measures designed to tighten security have been seen as abuses of power or even violations of human rights. There are evidences of widespread torture by Indian police and security forces and the systematic abuse of detainees.
What is good to observe in most of the alternative media are providing proper coverage of inequality as well as religion extremism issues. For example:
India Together writes, "New report on Posco, but who's listening?" It says, "It is undisputed that as of today the Project Proponent does not have Environmental Clearance (EC). In fact by earlier judgment of the Tribunal, the permission granted to the Project Proponent was kept under suspension and it was to remain in force till an appropriate order in review or otherwise was passed by the Ministry of Environment and Forests (MoEF) on the recommendations of the Expert Committee. It is stated on Affidavit before us that proceedings are still pending and therefore EC in favour of the Project Proponent remains suspended."
The people's movement against POSCO started soon after the signing of the MOU between POSCO and Odisha Government. Since then over hundred bombs have been thrown at the resisting villagers by the pro-POSCO goons and around 100 villagers have been shot by the Odisha police. More than 1500 villagers and activists are facing over 250 fabricated false charges. Many villagers cannot come out of their villages even for their hospitalization, due to the threat of arrests.
TwoCircles.net (TCN) reports, "Kashmiris are fed up with violence". This media writes, "The people of Jammu and Kashmir are fed up with violence and are eager to taste peace and development, UPA chief Sonia Gandhi said Wednesday. She told a public rally here also addressed by Prime Minister Manmohan Singh that Indian democracy had the strength to overcome conflicts through dialogue. The rally was held shortly after Manmohan Singh inaugurated a key rail link between the Kashmir Valley and the Jammu region."
India and Pakistan have fought three major wars (1948, 1965 and 1971) of which the first two were fought over Kashmir (1948, 1965). There were several low intensity military skirmishes between India and Pakistan over Kashmir in the past six decades, most intense being the standoff over Siachen glacier in 1983 and 1999 Kargil Conflict. Thus far many lives have been lost due to this conflict and the Kargil conflict highlighted how perilously close the region could be to a nuclear war, which would be devastating not only for both countries but also for the whole region. Any normalization of relations between the two countries as well as the mounting human and financial costs of the conflict necessitates a speedy resolution of the Kashmir issue.
Other news covered by this media are: 'Madrasa graduates should be ready to face future challenges'; Several women activists participate in Rihai Manch dharna; IBPC Sharjah to raise Rs.10 million for Uttarakhand disaster.
From neighbouring country Pakistan, Journalism Pakistan reports: Foreign media want Walsh back in Pakistan. This media writes, "Foreign media organizations sent a letter of protest Friday to the information minister against the expulsion of Declan Walsh, The New York Times bureau chief for Islamabad, The Express Tribune reported Saturday. The paper said the letter was sent to the Information Minister Pervaiz Rashid and seeks re-instatement of Walsh's visa."
From Sri Lanka Ada Derana reports, "JVP will not appoint anyone to committee to look into constitutional changes." This media says, "The JVP will not nominate any of its members for the Parliamentary Special Committee to look into constitutional changes, JVP General Secretary Tilvin Silva stated. A Parliamentary Special Committee comprising 19 members to look into constitutional changes has been appointed, the Speaker announced in parliament on June 21."
The Janathā Vimukthi Peramuṇa ("People's Liberation Front") is a Marxist-Leninist, communist political party in Sri Lanka. The party was involved in two armed uprisings against the ruling governments in 1971 (SLFP) and 1987-89 (UNP). After 1989, JVP entered into the democratic politics by participating the 1994 parliamentary general election.
Conclusion:
During natural disasters, and for some time afterwards, the people affected by them usually have millions of questions and are desperate for information. In many cases, they do not understand what has happened, what to do next and whether there is still any danger. These are questions in need of answers. Having a community radio that meets their information needs helps the affected families and their communities stay up to date on what is happening. Radio also plays a key role in bringing community members together to discuss the issues that affect them.
Marginal or alternative media spaces, cracks, or fissures in the mediascape are associated with increased and more democratic access, freedom of expression and operation, as well as creativity and innovation. Community media is championed by many, including international development agencies, as a tier of broadcasting that gives voice to the voiceless and provides an important channel for local development and the enactment of citizenship. State support in terms of adequate legislation and funding, especially in the early stages of the development of community radio in India is clearly the key to the development of effective citizens' media.