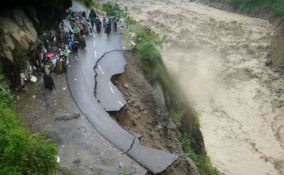 MUMBAI: Heaving pouring in Uttarakhand has made the rescue operation complicated, but at this difficult time, flow of information has become an important task. Gram Vaani has set up free Mobile Vaani for each of the three community radio stations (CRS)- Kumaon Vani (Mukteshwar), Mandakini Ki Awaz (Rudraprayag) and Henvalvani (Chamba Valley) in the flood affected region.
Mobile Vaani is a voice-based social platform where users can call and access, share or comment on content. Speaking with Radioandmusic.com, GramVaani senior production manager Zahir Koradia says, "We have set-up a system for Uttarakhand flood victims where they can just give a miss call for help. As soon as people give miss call on the particular given numbers, they get a call back where they can record their messages. "
To use these services, there are three phone numbers:-
011-66030073: Line to be used by Kumaon Vani (Mukteshwar)).
011-66030074: Line to be used by Henvalvani (Chamba Valley).
011-66030075: Line for the Mandakini Ki Awaz (Rudraprayag).
"The facility can be used by victims to inform people of their situation.This also allows people to call and listen to the recorded messages and other audio 'uploaded' by the CRS. This facility can be used to provide information to others at a time of convenience to the callers. The caller incurs no cost," he adds.
Using simple technologies and social context, Gram Vaani has been able to impact communities. The company manages 30 rural radio stations and shares content over mobile and the web. Mobile Vaani is essentially a social media platform that runs over phone calls.
Koradia said, "We are in the process of coordinating with CRS and spreading the word to help the victims. There has not been much response because flood victims are not aware. We need to reach them urgently for help and so want this facility to be promoted."
Gram Vaani [meaning 'voice of the village'] is a social tech company based at IIT-Delhi. They have been able to impact communities- more than 2 million users in over 15 Indian States, Afghanistan, Pakistan, Namibia and South Africa.