Seven Sisters Project: A mobile phone-based citizen news service for North East India
Jubin Mehta | August 22, 2013 10:40 am
Shibayan Raha is a seasoned community organiser and trainer who took up traveling since he was a teenager. An Access Now Tech Innovation Award Winner, Shibayan always used to visit offbeat places, travel cheap, stay with the local community, and usually alone. He had always noticed a prejudice people had towards North East India and in 2007, when Shibayan shifted to Delhi, he got a chance to inspect the situation deeper.

Seven sisters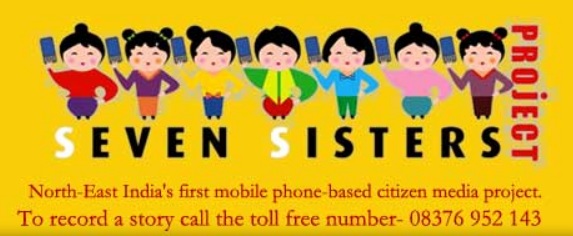 Delhi has many people from the North East who work here and send home the money. "I started with interacting with people from Manipur, Nagaland, Assam, etc. all of whom are very good friends of mine now. Interaction with them made me realize the gap between the North East and the rest of India," says Shibayan. Stereotypes were floating around, and Shibayan wanted to break them.
To realize his vision and play his bit in the whole situation, Shibayan thought of creating a medium where indigenous communities staying in Northeast India can tell their stories without being censored. "I realised if we can somehow connect people with a platform where they can call a toll free number to record their opinion/stories on issues they care about, then we will be able to at least make an effort to bridge this information gap," says Shibayan.
He, along with journalist and founder of Youth Ki Awaaz, Anshul Tewari (who launched a mobile platform for social causes) announced a mobile phone based citizen news service for North East Indian and called the campaign- Seven Sisters Project.
India has more than 900 million mobile phone subscribers and the penetration in North East India is also deep. The Seven Sisters Project enables citizens and citizen journalists in the Northeast to use this medium to tell their stories to the world via a deep integration of mobile phone, Facebook and the Seven Sisters Project website. The technology combines an Interactive Voice Response phone system with a Facebook application to create a mobile reporting network for Northeast India, with the aim of spreading news through Facebook to users in different parts of the country.
The project uses open-source voice portal technology that enables citizens to report and discuss issues of local interest. To use the portal, individuals call 08376952143 using any mobile or fixed line phone. Callers are prompted to press "1″ to listen to stories recorded by others, "2" to comment on stories, and "3" to record a story. Once a message has been recorded from the field, a professional and trained moderator accesses the system using a Web-based interface, review and verify each report. Approved reports are then made available for playback over the phone and can be accessed on the Seven Sisters Project Facebook page, website and on Twitter.
Read the original source here