Is the Government providing health facilities as promised? What facilities are available? How well do they function? How many people benefit from it? Why do people people prefer private healthcare over public? Are they aware of their entitlements?
Many numbers and reports are claimed about the progress of programs run in the states by authorities, but we wanted to know the ground reality ourselves. We wanted to hear the pains, problems and opinions of the people direct from them. So we organized a state wide campaign on our Jharkhand Mobile Vaani platform to overview the condition of health facilities in the state.
Reports for the campaigns can be downloaded here [first], [second], [third].
Excerpts from the first campaign are below:

Click here for a detailed study of the facts from the campaign Report on JMV campaign on Health facilities
Jharkhand Mobile Vaani (JMV) has since the last one year emerged as a common platform for the people of Jharkhand to express their views, share their experiences and address their queries/questions/doubts on a myriad of issues they encounter on a day to day basis in their lives. In this capacity the callers and listeners of JMV have actively taken up issues pertaining to gaps in the service delivery systems of various government schemes, lack of awareness on social issues, better understanding of agricultural practices and others issues.
Supported by Grand Challenges Canada, a health campaign was started on 24th April 2013, at a time when JMV was receiving a lot of items on Health services and accountability issues in Jharkhand. Every week listeners were provided with a new topic to discuss their issues related to Government health facilities. In the initial four weeks after the campaign started, four topics were given for weekly discussions. The topics were based on everyday experiences of people with health care facilities, such as; health facilities available at PHCs, Laboratory testing and Delivery facilities at Government Health Centers, availability of clean toilet and drinking water at PHCs, and distance of the nearest health center from the village, so that we could provide a platform to the JMV listeners to express their opinion on present scenario of health care delivery in Jharkhand. Callers left their opinion, life stories, experiences, essential information on this platform.
Major objective of the campaign:
1. Understand the present scenario of health facilities in Jharkhand.
2. Understand major issues that people are facing while seeking health services.
3. Understand the state of PHC infrastructure and is connectivity to nearby villages
4. Build awareness about accountability in health care
Campaign process
Contents was solicited from the community for this campaign, and analyzed to get data from the health related items on JMV as well as the Government guidelines for CHC, PHC and Sub-centers regarding infrastructure and facilities. Then issues were identified and promos were prepared on different issues. These issues were those that people observe and experience in their daily life. Four promos were prepared and played on a weekly basis. Listeners gave their opinion, concerns or feedbacks on the issue throughout the week and all the items of the week played on a particular day of the week for an hour.
| | | |
| --- | --- | --- |
| Week | Topic | Promo Content |
| 1 | General information about health Facility | Share general information about available health facilities in the nearest PHC. |
| 2 | Laboratory testing and Delivery facility | Comments on availability of Laboratory testing and delivery facility in PHC. |
| 3 | Basic infrastructure of Government Health Centers | Discuss about the availability of basic infrastructure like clean toilet and safe drinking water at PHC and sub-centers. |
| 4 | Distance and connectivity of the health facility | Share information about the distance and connectivity of the nearest PHC. |
The content from the listeners of JMV came in the form of information, opinion or as a form of life stories in response to the promo for the week.
Community Feedback and Major Findings
Issues discussed during 1st month of the campaign – The first week of the campaign was used to understand the community's perspective, and set the month's agenda.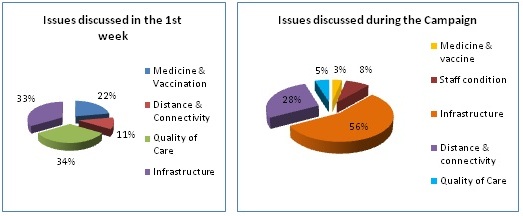 3 percent of callers discussed about the availability of free medicine and vaccine at the health centers, followed by 8 percent callers who discussed about staff attendance at health centers, 28 percent callers discussed about distance and the connectivity of the health center, and 56 percent messages were about other infrastructure issues.
No PHC at Chandrapura:Kailash Giri called from Chandrapura Block of Bokaro District to update about poor health care facilities available at Taranari Panchayat. He commented that there is no Primary Health Center in the region and this has added to the woes of the villagers when in need of the health care services. There exist a land reserved for building but it has remained on papers for a long. He concluded saying that the Jharkhand Government need to intervene in the matter and bring up at list a Primary Health Center in the region.                                                                              http://voice.gramvaani.org/vapp/mnews/10/show/detail/44906/
Poor health facility in Giridih:Ravindra Kumar Verma from Leda, Giridih call to update the present scenario of the health center in his village. There is only one Sahiya available in the village and a health sub-center is there. No medicine, vaccine or delivery facility available in the sub-center. Most of the time it remains closed. Also, Sahiya is not properly trained and no vaccination happens in the village.  http://voice.gramvaani.org/vapp/mnews/10/show/detail/45075/ 
Poor Quality of Care in Palamu:Rajmani Yadav from Lesliganj, Palamu called to inform about the level of quality of care in the Government health centers in Palamu. He informed that there are lots of qualified doctors available in the Government hospitals but when it comes to the service deliver they lack behind. Doctors don't want to listen to the patients and after a minimum check up they prescribe some regular medicines. If those patients visit their private chambers then they treat the patients properly but the fees are very high there.                                                                    http://voice.gramvaani.org/vapp/mnews/10/show/detail/45070/
PHC 25 KM away in Dhanbad: Shivpujan Hazari from Mahuda, Dhanbad interviewed a villager Basant Kumar Hazari. He is a resident of Bhatdih panchayat of Baghmara Block, Dhanbad. He informed that they had to travel almost 25 KM either to Bokaro or Dhanbad for the health facility as there is no other health facility available in between for villagers like him. CCL hospital is available in this region but they only provide services to their employees.                             http://voice.gramvaani.org/vapp/mnews/10/show/detail/45076/
Availability of Laboratory Investigation and delivery facility – The promo of the Second week asked the listeners to share whether Laboratory Investigation and Delivery facility is available at their nearest Health Center or not.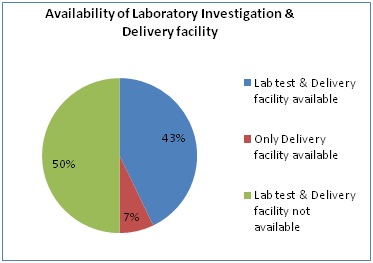 50 percent of the people informed there is no facility of Laboratory Investigation or Delivery available at their nearest Health Centers.
Delivery and Laboratory Investigation facility available at Lutipahari PHC:Radhu Rai from Baghmara Block of Dhanbad called to share the positive feedback of the Lutipahari PHC of Dhanbad. Lutipahari PHC has the facility of Laboratory Investigation and normal delivery. This PHC provide health services to the people of nearby 61 Panchayats. Sahiyas of the same Block make people aware about the facility available in the PHC and motivate for institutional delivery. Doctors are also available and 24×7 emergency facilities are also available in the PHC but for caesarean delivery they refer to other hospital of nursing home as there is no facility available for caesarean delivery in the Lutituli PHC. For emergency cases MAMTA VAHAN is also available. http://voice.gramvaani.org/vapp/mnews/10/show/detail/45821/
ANM runs the health center in Bokaro:Krishna Kishor from Petwar, Bokaro informed that there is no facility of Laboratory Investigation or Delivery available in the health center of his Panchayat. Only one ANM runs the health center there. This has added to the woes of the people of this area. http://voice.gramvaani.org/vapp/mnews/10/show/detail/45827/
Availability of Drinking water & Public toilet at Health Centers- The promo of the third week invited listeners to share information about the availability of drinking water and public toilet at health centers.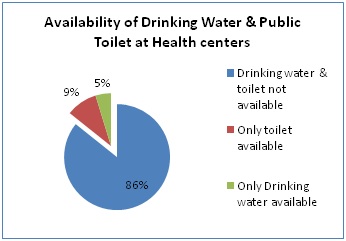 Total 86 percent callers from different districts of Jharkhand shared that facility of drinking water and public toilet is not available in the Govt. Health centers. 
Shabby condition of Bengabad PHC:Lakshman Ram from Bengabad Block, Giridih informed that there is a toilet available in the PHC but Vasectomy and Tubectomy operations are also done in the same toilet. There is no facility of drinking water in the PHC. Over all PHC infrastructure is also very poor and he allegedly said that it's due to the management committee of the hospital which has not been changes for many years.                  http://voice.gramvaani.org/vapp/mnews/10/show/detail/46517/ 
Distance and Connectivity of the PHC from the village- The promo of the fourth week invited comments on the distance and connectivity of the PHC from the village. While 17 percent of the people who live within 5 KM of the Health centers informed that they have good connectivity, the other 33 percent, who live within the same distance says to have bad connectivity.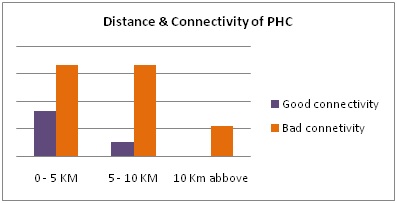 Pregnant women suffers most:Bokaro: Krishna Humar Mahto called from Dahi Basti, Bokaro district to inform about the long distance to the PHC available in the region. He spread some light on the railway crossing which multiplies to the woes of the patient commuting through the crossing. He said that the pregnant Women visiting the PHC are the worst sufferers in this regard.  http://voice.gramvaani.org/vapp/mnews/10/show/detail/47237/
Media and Partnerships
The campaign was covered in every detail by Panchayat Nama through its weekly Suno-Suno page, where the comments and experiences shared by the callers of JMR were featured along with their names and locations. Many of the reported experiences have been taken up by the field-level volunteers of JMR and are in the process of being followed up for effective service-delivery.
In the future, significant offline activity will also be conducted via partners, to hold FGDs, interviews of people from the field, and bring active partnership from organisations working on these issues. This will not only help collect more detailed information but also bring greater and more intensive outreach.
Theory of change: Bringing impact through community media
The figure below captures our theory of change of using participatory communication to enhance two community level dynamics, that is, access to contextual information, and sustained accountability loops, which leads to social change.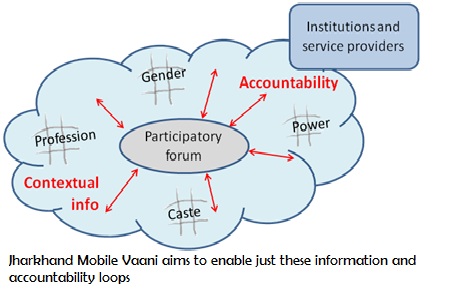 We know that rural communities are segmented based on caste and power dynamics, with some segments being more aware than others, and able to avail more services than others. This becomes a vicious cycle that we claim can be broken through equitable access to community media forums. These forums allow communities to share information which helps them learn from each other by hearing stories in their own context, and thus improve awareness of their rights and entitlements significantly more than traditional forms of externally originated broadcast communication. This increased awareness helps create demand for services, which is transparently shared on the same forum and improves accountability by allowing communities to cite deficiencies and gaps in service delivery. This also helps generate critical data on service delivery that can be used by policy makers to understand problems and arrive at data-driven objective solutions.