The Telegraph has carried another fantastic article about us! Original link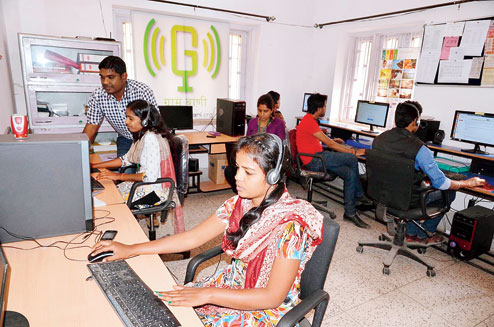 Want the TV anchor to stop yelling on camera? Think the newspaper editorial is too biased? Reach out for your cellphone.
Mobile Vaani, which generates free, 24/7 news content by, for and of the people and shares it on cellphones via an interactive voice response system, gets people in Jharkhand and Bihar to become both listeners and reporters.
Running the show is Gram Vaani Community Media Private Limited, a social tech company based at IIT-Delhi. Its website, gramvaani.org, says they started venture with "the intent of reversing the flow of information, that is, to make it bottom-up instead of top-down".
So, if you've always felt news content is being created by a limited number of elitists in print and electronic media, give a missed call to 08800097458 to access Jharkhand Mobile Vaani or 08800984861 for its Bihar counterpart to get a change of taste.
Your cellphone — it need not be an Android or Smartphone — will then get a call from 11166032800 or any other Delhi number. On picking it up, one can get news, views as well as directions on how to participate in the system.
A person needs to press 2 on his cellphone to communicate what he wants, giving his identity.
Once done, he can go back to the Mobile Vaani service by pressing 3.
In Jharkhand, service is offered by 30 youths coordinating between Ashok Ashram, Dibdih in Ranchi, and IIT- Delhi across different shifts. Apart from this, listeners will not have to listen to any commercial advertisement unlike other radio services.
Sultan Ahmed, a member of the operation team, told The Telegraph that they started the service in Jharkhand in 2011.
"Though the system is operative for last two-and-a-half years, it's very popular now with thousands of callers a day. Listeners become informers and vice-versa. It's a two-way communication that gives people the opportunity to share development and people-oriented news without defaming others," he said.
Shashi Kumar, Jharkhand Mobile Vani content manager, added like-minded NGOs helped run the system.
"Both Jharkhand and Bihar Mobile Vanis are becoming a habit with callers. It's an easy, useful and interactive service," he said.
In Bihar and Jharkhand, Gram Vaani Community Media operates alone, he added. In other states, it partners community radios.
Prabhakar, Harmu resident, social worker and a regular listener of Mobile Vaani said that he has come to depend on its information.
"Information on Mobile Vaani is very reliable. It comes directly from the mouth of people without distortion. What's more, many times I have shared my views also," he said.