Originally published here.
Network Contact: Aaditeshwar Seth
APRIL 29, 2016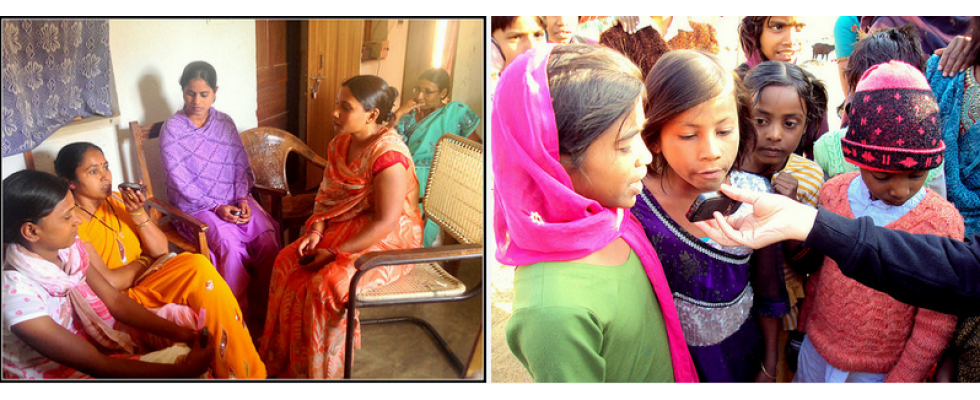 Mobile Vaani (MV) is a mobile-based voice media platform for underserved areas in India whereby users generate content in their own local dialect through Interactive Voice Response (IVR). Created by Gram Vaani, the intelligent IVR system allows people to call into a phone number and leave a message about their community or listen to messages left by others. The MV network spans 25 districts in Jharkhand/Bihar/Madhya Pradesh (MP), and over 30 community radio stations in the states of Uttakhand, Madhya Pradesh, Rajasthan, Andra Pradesh, Maharashtra, Tamil Nadu, and Orissa. The purpose of the platform is to reach the people in an interactive and measurable manner, integrate with local community processes, and bring about actual social impact on the ground.Communication Strategies:
This information and communication technology (ICT) for development (ICT4D) initiative is based on the notion that whereas traditional media like radio and television are generally one-way and non-interactive and can present literacy barriers, mobile phones are tools that support the importance of content in local languages and dialects and enable users to share their message with their communities. This can bring about local action, empower communities for change, and build social capital. MV does not require smartphones or the internet; simple feature phones or even landlines can be used to speak and listen to contributions over an intelligent IVR platform. Content is moderated locally and centrally and then is published on IVR and on the Web. Inputs are connected to stakeholders: government, non-governmental organisation (NGO), and social enterprise partners.
MV's flagship deployment in Jharkhand, Bihar, and MP has had over 1,500,000 users who have called more than 6,000,000 times to share information and discuss wide-ranging issues on culture, local updates and announcements, and government schemes. The average call duration is 8 minutes, user retention is as high as 70%, and daily active user (DAU)/mouthly active user (MAU) ratios are close to 50%. Fifty-nine percent of MV users are illiterate, and 70% live below the poverty line. Ninety percent of the content on MV is community-sourced content that includes local news, interviews and informational services, opinions on topical issues, guided discussions and campaigns, grievances and feedback on government schemes, and cultural artifacts including folk songs and poems.
To give some examples from Jharkhand, MV has helped its community of listeners share knowledge and best practices with each other; for instance, the benefits of the Shri Vidhi technique for rice cultivation have been discussed on MV. MV and its network of resource partners often take up issues reported on MV and convey them to state officials for prompt action: Reports about malaria deaths in Palamu were conveyed to officials and led to an immediate response, wages delayed by 5 months to Anganwadi workers in Lathehar were given out, harassment by bank officials in enrolling people in Sarai Kela was reported and led to prompter action, and so on. Committed to the development of children and endeavoring to make learning a fun and exciting process, Gram Vaani partnered with Sesame Workshop to bring Galli Galli Sim Sim, the children's edutainment programme to MV; children could call between 7-8pm to listen to the muppet Chamki and her friends.
Gram Vaani works with partners at different levels, starting from simply providing access to their large network, to engaging actively with partners to design an ICT intervention in their work. Many development agencies and civil society organisations (CSOs) have partnered with us to reach out to their "target audiences" on various issues. At the most basic level of engagement/partnership, these organisations use the Social Campaigns service, which solicits and curates user-generated content (in local language), making it contextually relevant for people's understanding and effective development action. At another level of partnership, Gram Vaani looks for social sector and CSO partners to raise questions for Mobile Vaani listeners, get feedback, host a tele-discussion session, publicise issues faced by rural and marginalised communities on Facebook, and more. Outreach Partners can seed questions or discussion topics on the MV platform. They receive: Web access to compiled responses of all callers, categorised and tagged; complete statistics of all user interactions on the question; in-depth analysis of trending issues identified by users; and help in creating engaging content. Community Building Partners can join in building online and offline interaction. Gram Vaani provides its platform of users, as well as relevant field inputs in the partner's geography, who can come on board to provide questions or discussion topics and plug its own field teams in to help with outreach, response, and offline engagement on the topic. In addition, a dedicated Facebook or webpage hosting the discussion is maintained for each partner, where comments from the phone are made visible to online users, and vice versa. This adds a new level of online-offline interactivity. A Mobile Vaani Expansion Partnership is for organisations who want to try the service outside the current coverage area. Finally, via MV, media organisations including newspapers and television channels can engage with their audience and even beyond (with people not connected to any media outlets). The regularly active MV user base can provide feedback and survey responses on topical issues and current affairs. For example, MV partner Panchayat Nama, the weekly supplement to Prabhat Khabar newspaper, asked a few questions on the issue of rural water access to MV listeners in Jharkhand. "The paper is the widest circulated in Jharkhand, and the supplement is the only one tailored to local panchayat leaders, so what could our listeners add? Quite a bit, it seems." Click here to read some case studies and impact examples of MV campaigns.
The offline connect via local MV partners garners faster feedback from the community on what's working and what's not, helps reshape campaigns, and gives a face to the technology. "Actual people. Real motivation." Click here and click here to read about campaigns using the MV platform. To cite one example, Meri Panchayat Meri Shakti Mujhe Bhi Gino was an initiative to foster women's participation in political decision making at the grassroots. CREA in association with Gram Vaani envisaged a campaign encouraging women's entry into the village public arena in Jharkhand. In view of 4-phase Jharkhand Panchayat elections from November 22 to December 12 2015, the 7-week campaign utilised some key campaign tools such as information content in the form of audio drama, monologue, expert interview and panel discussion, user-generated content, community mobilisation in the field, and surveys to gauge the impact. According to Gram Vaani, community members in large numbers not only got hooked on the informative content but also responded by recording user-generated content in various formats. This was reflective of their high engagement with the programme. The campaign brought to fore a number of case studies and personal narratives of elected women representatives that reportedly became a source of inspiration to advance women's participation in the state's rural local self-government.
With a growing belief in the social entrepreneurial private sector to solve India's poverty problems, there is an increasing need to understand rural India. MV makes this possible by collecting user information to understand consumption patterns, savings and credit opportunities available to people, quality of healthcare facilities, and so on. MV allows for the supply of detailed analytics on outreach achieved to different demography, locations, and research on community response. MV can provide a profile panel of users over time, conduct feedback surveys, and create other custom services.Development Issues:
New Technologies, Governance, Rights, Women. Key Points:
Gram Vaani is social tech company that was incubated out of IIT-Delhi. It was launched in 2009 with the intent of reversing the flow of information, that is, to make it bottom-up instead of top-down. The vision: "Build citizen-driven media platforms that give communities a voice of their own." Gram Vaani has entered into a strategic partnership with OnMobile's Life Impacting Services unit to create OnionDev, which embodies a multi-layered approach to development through technology. With offices in Delhi, Bangalore, and Ranchi, and field presence in Bihar, Jharkhand, and MP, with its technology in use in over 12 states of India and 6 other countries, OnionDev is working to strengthen its leadership role in the use of ICTs for development across the world.