With our partners Oxfam and Oursay, we are together running the Close The Gap campaign on gender equality. Does a gap exists? How did it come about? And how can it be removed? These are some questions we put up in front of the Mobile Vaani network. Extensive participation came from Jharkhand, Delhi, and from across five community radio stations in our network.
Read a few articles:
– Bridging gaps, The Hindu
– They do mind the gap, Hindustan Times
And our detailed report.
Several of our partner community radio stations also joined the campaign, taking the overall outreach to 5,00,000+ households.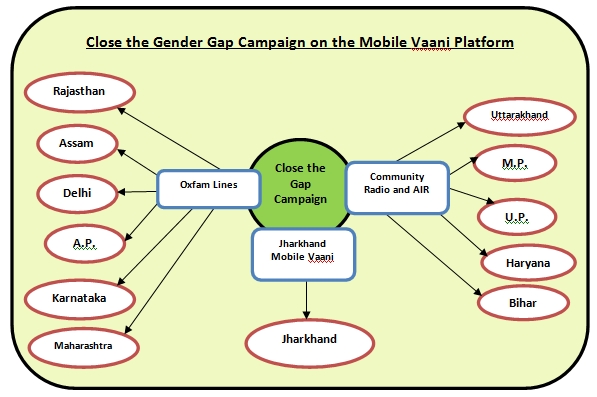 Over 250 people responded, and 50000 people called to show their solidarity.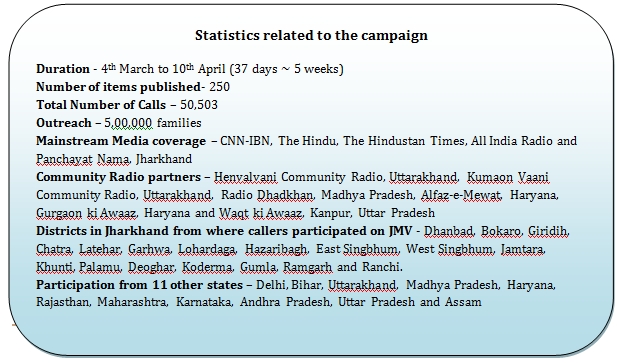 The campaign was run over a series of 5 episodes.
| | | |
| --- | --- | --- |
| Week | Promo Topic | Promo Content |
| 1. | General Perceptions | Share general perceptions about the gender gap existing between men and women in their community and give their suggestions on how to close the gender gap. |
| 2. | Political Participation of women | Comment on women's electoral rights and their political participation in villages. |
| 3. | Violence against women | Discuss about the common cases of violence against women in Jharkhand, the reasons that incite violence and the ways to prevent violence against women. |
| 4. | Women and work | Share perceptions about women and their work, with a special focus on agricultural work and gender based division of labour. |
| 5. | Women and health | Comment and reason if women of their house give their own health as much priority as they give to the health of the other members of the family. |
The content in the form of opinions, information and entertainment came as a response to the questions solicited in the weekly promo. The people from the community also collected life stories of women and interviews of people as per the weekly theme.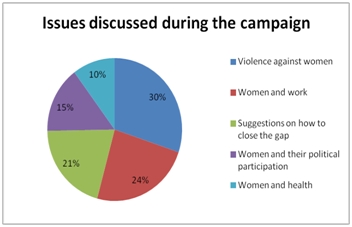 People gave several reasons for the existence of this gender gap, ie. what according to them were the main reasons, and existing social norms emerged as the highest voted reason.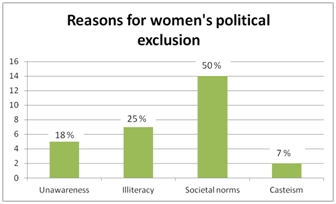 Information was collected on the kind of work that women do in rural areas.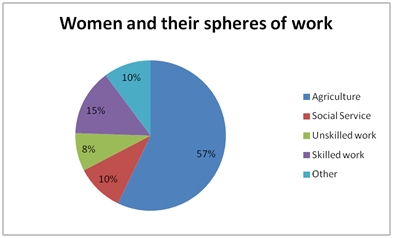 The majority being agriculture, we probed deeper to understand the division between men and women's work.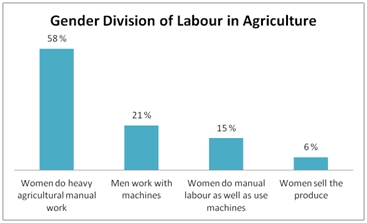 Finally, the community also gave their suggestions on how to close the gender gap, and reported some success stories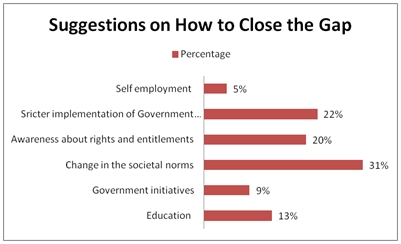 You can even listen to several voice comments left by people here.
"People need to change their mentality towards women" – Vasudev Turi
Vasudev Turi from Gunjardih village, Nawadih block, Bokaro district called to speak about women's status in the society. He expressed that women's empowerment can never be achieved by simply thinking and talking about it. As he speaks, there are many families who are murdering their daughters in her mother's womb for the want of a male child. He says that today we might have reached the 21st century but our thinking is still rudimentary. He concluded his message by appealing to put an end to the barbaric acts of female foeticide and called for a change in the discriminatory practices of the society towards women.
"Women Mukhiya are puppets in hands of their husbands" – Asha Kumari
Asha Kumari form Chandrapura, Bokaro district called to share the real picture of the women representatives who are elected during Panchayat elections. She expressed her personal experiences of gender bias in the region she belongs where women mukhiya of panchayats face discrimination from their own husbands, who replace them in the panchayat offices. The husbands of the elected women representatives deny them the permission to be a part of the Panchayat office dealings. She ended her message by concluding that the men are not very liberal towards the participation of women in politics.
"Women endure a life full of violence" – Janardan Mahto
Janardan Mahto from Baghmara block of Dhanbad district called up to talk about the life cycle of violence that women have to live through. He said that violence against women starts even before the birth of a girl child when the mother's womb is made into a tomb because of female foeticide. He further says that even if the girl somehow manages to come into this world by taking birth, then she is discriminated against men throughout her lifetime. Since the beginning her family doesn't pay proper attention to her food and health making her more vulnerable to diseases, there are instances of violence within the family and in public spaces that continue to take place during her existence. He therefore insists that the need of the hour is that the parents or guardian takes initiative to inculcate awareness among women to help them understand their rights and prevent them from falling prey to violence.
"Men are never called witches, women are" – Khushboo Kumari
Khushboo Kumari from Balumath, Latehar shared her thoughts on the gender gap existing between men and women in Jharkhand. According to her, women are still discriminated against in today's modern era because they are not given freedom to choose the point to which they want to study, the way they want to dress up, the way they want to live. Going into the details she tells that in the rural areas of Jharkhand people taunt the girls who keep mobile phones with them while going out of their houses. If this is not enough, she expresses that in this male dominated society, the women who deviate from the social norms are branded as a witch and fall prey to violence and societal exclusion, whereas men are never branded as a witch.
"Women look after more than 50 percent of agricultural work" – K. K. Mahto
Krishna Kumar Mahto from Narra Panchayat, Chandrapura Block, Bokaro district called up to share his thoughts on women and their share of work in farming. He says that women and men complement each other on farming related tasks. Elaborating more on the matter he informs that as men sow the seeds, women take out the seeds of Dhan. While Men plough the fields to prepare the farm land, women transplant the rice crops. He explains how women perform the manual tasks of harvesting the yield and how men using their mechanized equipments collect the yield and carry it back to the godowns. He acknowledges the manual labour put in by the women members of the family by saying that of the entire work of farming, women take care of more than 50 percent of the work.
"Kasari Panchayat manages to close the gap" – Raju Kumar
Raju Kumar called from Chatra to talk about the evenness that exists in the social structure in the region. In an interview for Jharkhand Mobile Vaani, Sarita Devi, a resident of Kasari Panchayat said that there is no visible gap in her village. The Women equally participate and assist the Men in agricultural practices, handle the household activities and also participate in micro investment community initiatives by local Self Help Groups. She also said that simply depending on government schemes is not enough, hence they all took initiatives within their community and started doing micro finance to help each other. A twelve member group started doing micro financing with an amount of fifty rupees from each which is given on a minimal interest to anyone in financial need.