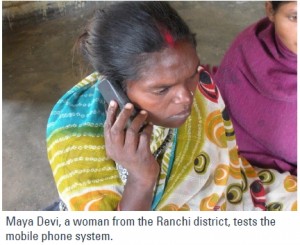 MSD for Mothers, a 10-year, US$500 million initiative to reduce maternal mortality, partnered with Gram Vaani and the White Ribbon Alliance for Safe Motherhood to deliver its model in Jharkhand, a state with one of the highest maternal mortality rates in India. We built a crowdsourcing strategy that can engage and empower women to become advocates for quality care and shape the delivery of maternal health services in India.
As one of the four Merck for Mothers partners in India, WRAI is leading the charge to plan a new mHealth platform enabling women to rate the quality of maternal health care they receive. In the program design, radio campaigns and other offline communications channels would inform women of a free phone line they can call to rate the services they receive from public and private facilities and get information about quality of care. The system, which is currently in development, would work like this:
Women calling the line would be asked to rate the quality of maternal care they received based upon a pre-programmed Interactive Voice Response scorecard.
The same phone line would also provide information to women about what constitutes quality care.
Participants' feedback and stories would then be published on the phone system for others to access, so that women who call seeking information can listen to comments and determine which health facility they want to access.
The participants' feedback would also be synthesized so that health officials and health providers can use it to improve care — creating a full feedback loop.
WRAI and Gram Vaani are currently field testing a prototype and engaging stakeholders to help with the design process. They are speaking to women, asking for their perspectives on quality maternal health care. Health provider associations, government officials, private providers and community members are also helping to develop quality measures that are equally important to women, households, providers and
policy makers.
WRAI envisions building a rich database of information while empowering women to influence the standard of care for maternal health. With the simple and already common tools of a mobile phone and a cellular subscription – this could become a grassroots movement for millions.