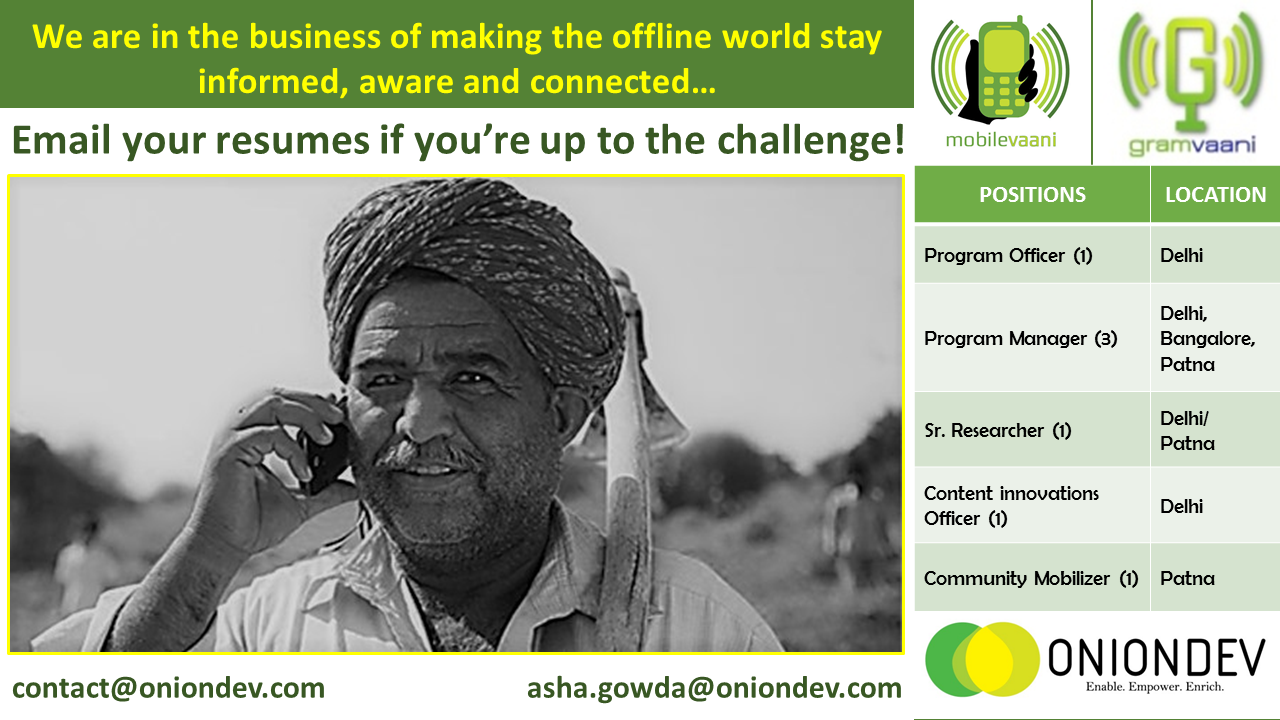 Gram Vaani has grown 2x in the last one year! If you are serious about doing challenging work, check out the job openings below and write to us at contact [at]gramvaani.org
Research and Programs positions to validate the Mobile Vaani model
Supported by the Gates Foundation, we are starting a large project in Bihar to build a validation of the Mobile Vaani methodology for creating behavior change, capturing community feedback, and initiating social accountability and collective action. We are looking for extremely talented people for the program manager and the research manager positions.
Openings in the Programs Team
We are also looking for young and dynamic people to join our Programs team in Delhi or Bangalore, and lead project management and business development for both the social as well as corporate sectors.
Openings in the Technology Team
We desperately need extremely talented technology gurus to join us as a Member of Technical staff.
Openings in the Content Team
We also need creative people in our content team, to guide the content creation and build innovative methodologies for user engagement.
Our work is intellectually stimulating, technically challenging, socially rooted, and very focused.
Our team is made of extremely dedicated young people who want to use their talents to bring social impact through technology. If you join us, what we can guarantee is an energetic work environment and an opportunity to do something really new.
Internships
There is always opportunity for more people. What kind of people? For starters- web people, social media marketing, design people, sound people, business development, writers and journalists and people active in the social sector. If you are one of these people and like the work we do, write to us and we can structure how you can contribute. If you didn't make the list above, but still want to contribute, get in touch!
contact [at] gramvaani.org