With a growing belief in the social entrepreneurial private sector to solve India's poverty problems, there is an ever increased need to understand rural India. Mobile Vaani makes this possible by cleverly collecting user information to understand consumption patterns, savings and credit opportunities available to people, quality of healthcare facilities, and identify enterprising youth who can serve as distribution agents.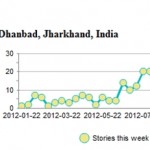 Mobile Vaani also allows you to reach out to remote areas using innovative phone and radio based technologies, engage with the listeners through participatory feedback on campaigns, hold live discussions, and make announcements. We will supply you with detailed analytics on outreach achieved to different demography, locations, and research on community response.


---
For more information on Mobile Vaani Advertising and Market Research, please email mobilevaani [at] gramvaani.org with the subject 'Mobile Vaani Advertising and Research'. Our you can start with letting us know about what issues would you like to have researched.